Hydrogen Cost to Fall Sharply and Sooner than Expected
It's been an inspiring week for Plug Power – whose CEO, Andy Marsh joined 80+ energy, transport and industry leaders in Paris at the 4th annual Hydrogen Council CEO Event to discuss strategies to accelerate a clean energy future with hydrogen. As we kick off 2020, we have big ambitions for hydrogen scale-up as a way to address the global climate challenge.
That's why the Hydrogen Council members came together with leaders of multinational companies covering the entire hydrogen value chain to assess the state of the industry and reinforce our commitment to developing and investing in hydrogen as part of the energy transition.
During the CEO Event, the Council unveiled its new hydrogen cost study, Path to Hydrogen Competitiveness: A Cost Perspective. The new report shows that hydrogen will rapidly achieve cost parity with many low-carbon alternatives and even some conventional ones by 2030 – far sooner than previously expected. Significant cost reductions (up to 50%) are expected across 20+ different applications, such as long-distance and heavy-duty transportation, industrial heating, and balancing of the power system, which together comprise roughly 15% of global energy consumption – a material opportunity.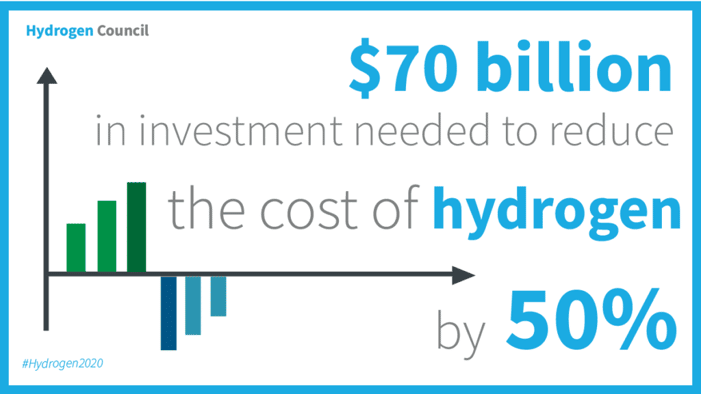 To deliver on this opportunity, supporting policies will be required in key geographies, together with investment support of around $70 billion in the lead up to 2030. While this figure is sizable, it accounts for less than 5% of annual global spending on energy. For comparison, support provided to renewables in Germany totaled roughly $30 billion in 2019.
Read more in the report: http://bit.ly/CoststudyPR #Hydrogen2020 #CleanEnergy
The post Hydrogen Cost to Fall Sharply and Sooner than Expected appeared first on Plug Power.