Clean Hydrogen Partnership to Promote Electrolyzers
– In a collaborative effort, SK E&S, Plug Power, K-Water and SK Plug Hyverse have signed an 'MOU aimed at extending the reach of green hydrogen distribution and rejuvenating the industry'
– The partnership entails the supply and localization of PEM electrolyzers for domestic green hydrogen initiatives with the goal of ensuring global competitiveness in the emerging clean energy
SK E&S (CEO Choo Hyeongwook) has joined forces with Plug Power and K-water to collaborate on advancing the green hydrogen sector both domestically and internationally with a focus on promoting electrolyzers.
On November 7th, SK E&S announced the collaboration, following the signing of an MOU between SK E&S, K-water, Plug Power, and SK Plug Hyverse on November 3rd (local time) at Plug Power's Vista plant in Albany County, New York. This partnership aims to 'promote the growth of green hydrogen and rejuvenate the industry.'
Through this agreement, the four companies will bolster their alliance leveraging their unique strengths to pioneer the forthcoming era of green hydrogen. Their cooperation will encompass various aspects of the business such as development of national green hydrogen production facilities and the acquisition of operational technologies. They will also collaborate to boost the competitive edge of the domestic green hydrogen industry including the expansion of both domestic and international green hydrogen ventures as well as the exploration of new business opportunities.
With this objective in mind, SK Plug Hyverse, a joint venture between SK E&S and Plug Power, is set to provide and manage PEM electrolyzers, for both domestic and international green hydrogen projects. In addition, SK Plug Hyverse will engage in joint research and development efforts with K-water to enhance the operational technology of green hydrogen production facilities. Moreover, there are plans for further business collaborations and joint entry into overseas markets in the future.
Parties involved have also agreed to collectively pursue the promotion of PEM electrolysis technology, a crucial component in green hydrogen production. SK Plug Hyverse is planning to manufacture PEM electrolyzers in Korea while K-water seeks to offer essential business and technical support for localization and foster the growth of domestic green hydrogen enterprises within the water industry.
Water electrolyzers are instrumental devices that utilize electrolysis to produce hydrogen, playing a pivotal role in the proliferation of green hydrogen derived from renewable energy sources. Notably, PEM electrolyzers, which SK Plug Hyverse supplies and aims to localize, offer distinct advantages such as reduced operational time, exceptional load responsiveness, compactness, and low maintenance costs when compared to alkaline water electrolyzers. They are particularly appreciated for their ability to effectively compensate for the intermittent nature of renewable energy sources in green hydrogen production, ensuring stable operation even in the presence of fluctuating power supplies.
Leveraging Plug Power's extensive global expertise in supplying and operating PEM electrolyzers across the world, SK Plug Hyverse is set to establish a 'Giga-factory' in Korea for large-scale production of PEM electrolyzers. Currently, SK Plug Hyverse is actively involved in expanding the domestic green hydrogen sector by utilizing PEM electrolysis technology, participating in the ongoing 3.3 MW and 12.5 MW water electrolysis demonstration projects on Jeju Island.
The collaboration between SK Plug Hyverse and K-water is poised to expedite the development of the domestic green hydrogen ecosystem and bolster the competitiveness of the green industry. K-water is actively promoting various hydropower projects grounded in water resources and aims to lead the domestic green hydrogen industry by harnessing renewable energy sources. In September, the company achieved a significant milestone by constructing the nation's first green hydrogen production facility at the Seongnam Water Purification Plant powered by small hydropower.
Byeonghoon Chang, Head of the Water Resources & Environmental Management Division at K-water, said, "The hydrogen industry is very important as a major alternative to fossil energy to achieve carbon neutrality in the era of climate crisis." He continued, "We will do our best to revitalize the green hydrogen industry by spurring the development of next-generation technologies such as water electrolysis technology based on cooperation between companies."
Jiyoung Lee, Senior Vice President of SK E&S, stated, "The collaboration to localize PEM electrolysis technology can contribute to not only reducing carbon emissions but also establishing global competitiveness in the domestic clean energy industry." She added, "We are committed to exploring diverse cooperative opportunities to expand the ecosystem of the clean hydrogen industry and take the lead in the era of carbon neutrality."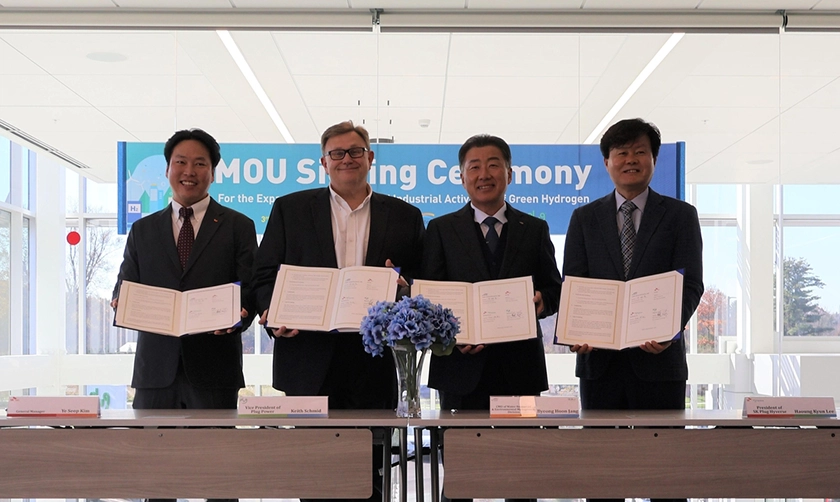 【 For more information, please contact SK E&S Media Comm】
For Busan to win the bid to host World Expo 2030, SK will always be there.
※ You can visit 'SK E&S Media Room' (https://media.skens.com) and SK E&S YouTube channel (https://www.youtube.com/SKENSTV) for more information including press releases.
The post Clean Hydrogen Partnership to Promote Electrolyzers first appeared on Plug Power.
The post Clean Hydrogen Partnership to Promote Electrolyzers appeared first on Plug Power.